We live in a great city! Loveland has so much to offer, including dedicated businesses providing valuable services our residents rely on. Each year, the Reporter-Herald pays homage to many of our top businesses by having readers vote for their favorites. If Metric Motors has helped you or a loved one through excellent service, here's your opportunity to let others know through your vote!
Here's How To Vote For Us!
Ready to cast your vote? It's very simple!
All you need to do is go to the Reporter-Herald's voting page and cast your vote for Metric Motors as the Best Auto Repair/Service Shop AND the Best Oil Change here:
That's it! If you would like, feel free to browse through the other categories and vote for your favorites there.
If you're short on time, simply cast your vote for Metric Motors, scroll down to the bottom of the ballot to add your personal details, click on "I'm not a robot," and click on "Cast Your Votes Now!" to submit your votes.
Thank you for your participation, and most of all, thank you for being a valued customer! We strive to provide excellence and quality in all we do, from tune-ups to inspections, and from auto repairs to car maintenance service.
More About The Readers Choice Awards
Each year, locals get to speak up about the businesses that go above and beyond in our community. Our local newspaper, the Reporter-Herald, opens up voting for a wide range of categories. If you have a favorite dentist, electrician, or hair salon, for example, you have the opportunity to vote for them! At the conclusion of the voting period, the Reporter-Herald will publish the results, and you'll see how your favorites did and how the rest of the community has voted on our great local businesses.
Please note that you can vote for Metric Motors in two different categories. Be sure to vote for us as the Best Auto Repair/Service Shop in town, as well as the Best Oil Change in Loveland!
More About Metric Motors
We've been serving the community through quality car maintenance and auto repair services since 1976 (our nation's bicentennial!). Our services include the following: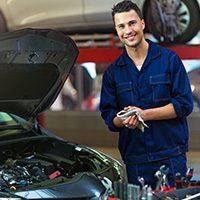 Oil Changes
Engine Maintenance
Climate Control System Repair
Tire Service
Alignments
Brake Service
Steering & Suspension
Electrical Services
Check Engine Light Diagnosis
And many other services!
Is your car due for scheduled maintenance? Give us a call! We offer loaner cars and after-hour pickups through our secure lock box for your convenience. Schedule your appointment today!